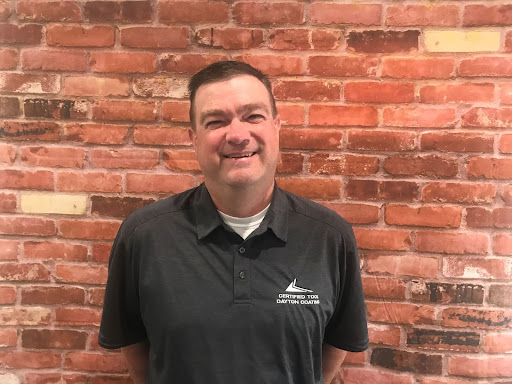 Quality Order Completion – Our New Vice President's Main Focus
Very little is going to concern a Vice President more than high-performance manufactured products that are produced with Quality Order Completion.
When Quality Order Completion is precisely and efficiently focused on, customers receive:
Manufactured products delivered quickly and 100% on time
Customer satisfaction with the quality of each individual order
On April 04, 2022, Dayton Coating Technologies and Certified Tool & Grinding welcomed Doug Voisard as our new Vice President.
With more than 20 years in the precision cutting tool industry, Doug is a highly qualified expert in his profession. He has earned a Bachelor of Science in Business, from Ashland University, which greatly compliments his significant experience. He has the necessary skill set to continue successfully meeting our customers specific needs, while effectively fulfilling their expectations.
Doug has obtained various positions in the cutting tool manufacturing industry, such as:
Vice President of Operations
National Sales Manager
Special Application Technical Manager
"We are excited to have Doug join our team", said company President George Korenyi-Both. "His reputation for delivering a positive impact and a commitment to service will ensure optimal growth in complex matters. Thus, ensuring that the highest quality will be delivered to our customers on a repeatable basis".
Doug's Achievements
During the course of his most recent role, as the National Sales Manager, Doug inspired and motivated the regional sales leadership team.
His efforts led him to produce an astounding growth in business revenues. He was able to efficiently drive productivity and operational changes. He even established a highly effective approach to data-driven reporting. As a result, these achievements quickly led to enhanced top line and bottom line growth throughout the business.
Doug has extensive experience and a solid understanding of the machine tooling industry. Thus, allowing us to continue providing the companies that we do business with Quality Order Completion. His expert knowledge combined with a strong work ethic and customer focus will create an excellent foundation to successfully continue the growth of, both, Dayton Coating Technologies and Certified Tool & Grinding business segments.
Doug's Goal Today
His goal today is threefold.
01. Above all, he will connect with our current customers
Doug wants to understand and fully comprehend the specific needs of each individual project. Therefore, he can gain a better understanding of the particular goals and objectives necessary to offer quality manufactured products.
Doug is, also, going to efficiently determine what our company is doing right, along with what we could improve on. As a result, ensuring that our customers receive quality order completion on a repeatable basis.
02. Meanwhile, he aims to simultaneously learn our company's internal systems
Doug will precisely compile detailed information and simultaneously obtain the knowledge needed on our company's internal processes that are currently supporting each customer demographic. Thus, making certain that he is completely engaged and connecting with the companies that we do business with.
03. In addition, he looks forward to improving internal processes
Once Doug has compiled all of the accurate details and information necessary, he anticipates the opportunity to enhance and improve the process flow for streamlined and uniform results. He will go above and beyond in order to achieve successful business development. He wants to ensure that the companies we do business with receive the highest quality order completion.
The Importance To Quality Order Completion
In the machine tooling industry, quality order completion is vital for various reasons.
First and foremost, if quality order completion is precisely focused on and managed, internal processes will successfully operate with continuous repeatability. A highly optimized internal system will make certain that the companies we do business with receive the best quality and value when it comes to the completion of each individual project.
Secondly, accurate and precise quality control is the key to a manufacturing company's brand name. Efficiently focusing on the quality of each order's completion allows us to offer our customers highly qualified and valuable manufactured products on a repeatable basis. Thus, giving us the opportunity to effectively build trusted partnerships with the companies that do business with us.
When Quality Order Completion Is Our Main Focus
Delivery of manufactured products are always on time
Products are highly qualified and repeatable
Customers feel greatly satisfied
Trust is built and trusted partnerships are formed with the companies we do business with
Efficient Quality Control
From our local facility in Dayton, Ohio, we focus on providing our clients with the highest quality order completion on each individual project that we receive.
Dayton Coating Technologies and Certified Tool & Grinding offers flexible and free pickup and delivery services. Our services will efficiently complete the job for your project a lot faster than many manufacturers who are also in the machine tooling industry.
The size or precise specifications of an individual order does not matter. Whether your part is larger in size or smaller, or extremely precise and complex, our team of experts will provide the highest and best Quality, Delivery, Value and Respect to our clients.
Whether you are in need of a quote or application support, our expert engineering team is eager to assist you with your cutting tool application, in order to develop your unique solution. Do not hesitate to reach out to our team if you have any questions or unique applications that you need support with.
You can, also, follow us on LinkedIn to stay up-to-date with industry news!