What Are Carbide Cutting Tools?
As a manufacturer, the Carbide Cutting Tools that are utilized in your shop's production process can be the most critical aspect of your company and its operations.
Manufacturing with advanced and quality materials will, ultimately, provide a manufacturing process that machines, cuts and grinds with high precision and exact accuracy on a workpiece. Therefore, greater results would be produced, providing an improved performance continuously.
What Are Cutting Tools?
Cutting Tools are used in a precise machining process or an industrial cutting procedure.
Typically known as a cutter, these cutting tools carefully remove material from a workpiece. This tool can properly get rid of a part's outer layer materials, due to the sharpened edges of the cutting tool. Cutters are designed and developed to be rigid enough so that they can be mounted and arranged onto a machine tool, in order to efficiently complete a complex cutting task. As a result, a cutting tool can effectively produce an intricate workpiece, accurately producing its exact desired shape.
Carbide Cutting Tools
In industrial manufacturing, Carbide Cutting Tools are one of the most widely used tools in the industry.
A carbide cutting tool is composed of a highly qualified tungsten carbide material. This carbide material will offer an improved performance, due to the tool's physical strength, along with an increased resistance to wear, pressure and heat. For a more enhanced resistance, a PVD coating can be added to a carbide cutting tool. Our team will provide recommendations that will be based upon the unique application of each individual tool.
Carbide cutters are machined to have precisely sharpened edges. Thus, this fabrication process will efficiently strengthen and enhance the cutting tool's ability. A higher and more accurate cutting performance can be expected, continuously, with a carbide cutting tool, compared to a standard cutting tool.
Carbide cutting tools are frequently used and widespread amidst the present-day manufacturing industry, for a variety of reasons. Our engineering team has diverse knowledge and can assist with designing the best solution for each unique application.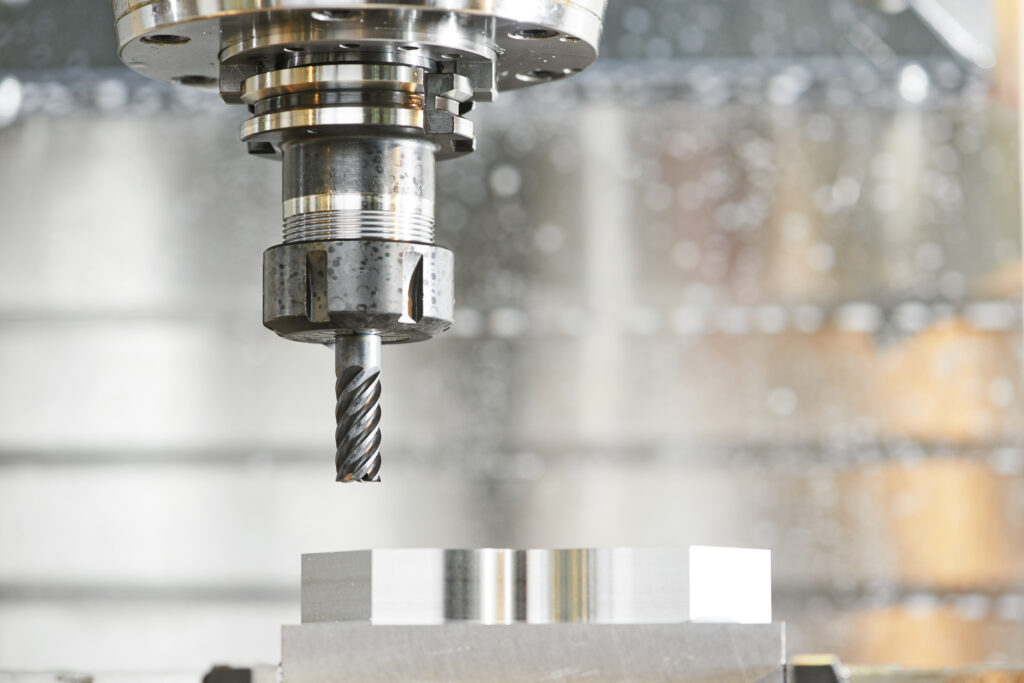 Benefits Of Cutting With Carbide Cutting Tools
A Carbide Cutting Tool will provide your company with an enhanced performance and better results, when compared to the other cutting tools. Out of every tooling option that is available, the carbide cutters are favored and, also, the preferred choice among manufacturers.
Greater Physical Features
The Carbide Cutting Tools have a variety of features that are extremely beneficial to the cutting job.
A carbide cutter's key advantage is its resistance to the heat during the manufacturing process. When cutting tools are in operation, the higher temperatures are unavoidable. There are some cutting tool options that are severely at risk of this extreme heat. Those tools lead to faster wear and tear and are, essentially, susceptible to tiring out and becoming damaged. That is, when continuous heat is dispensed during the operation.
Although, when completing a cutting job with carbide cutting tools, higher temperatures can be withstood, sustaining the tool's hardness. Carbide cutters are especially suitable for the machining tasks that involve harsh and extremely abrasive materials. That being the case, a carbide cutting tool is the preferred choice for the complex and heavy-duty cutting projects.
Costs Decrease
Additionally, Carbide Cutting Tools are beneficial to the economy. They can be significantly cost-effective for a manufacturer.
A manufacturing facility's costs will substantially decrease if the machining, cutting and grinding is completed with carbide cutters. Carbide cutting tools that are coated with the appropriate PVD coating, for the unique application, will make certain to endure the most specific, precise and heavy-duty machining jobs. Carbide cutters are fabricated with endurance, allowing them to perform an advanced, high-speed machining process. For that reason, the carbide cutting tools can precisely operate with repeatability, providing a manufacturing method that is constantly and notably durable.
A carbide cutter is wear-resistant, as well. Carbide cutting tools will provide a tool life that is, ultimately, longer than the life of standard cutting tools. Your facility's production times will limit down and it will no longer be necessary to frequently and continuously swap out the mounted cutting tools on each machine. As a result, costs will decrease considerably.
The PVD Coatings that are coated on the tool will allow for an advanced machining procedure, higher cutting speeds and faster feed rates to the cutting tool. A PVD coating can drastically shorten the production process, as well. Therefore, productivity will increase while, simultaneously, decreasing costs within the manufacturing facility.
Our Capabilities
Are your Carbide Cutting Tools operating with continuous efficiency and maximum performance?
Our team can offer your manufacturing facility vertically integrated solutions that will quickly get production back on track!
Dayton Coating Technologies and Certified Tool & Grinding, together, offer diverse services that are developed to efficiently support our customers with the highest quality job completion. Both companies work in synchrony, providing vertical integrations that offer a full service quick turnaround with repetitive, quality results every single time.
Our experienced team of specialists are in touch with your company throughout the entire production process, providing a custom service that is specifically tailored to your company's individual needs. From tool design and testing to surface preparation, PVD coating and fast delivery, we have the knowledge, expertise and ability to help your company succeed at each step of your manufactured part process.
Our manufacturing facility offers more than 150 PVD coating formulations, in order to keep your company's precision parts performing at their best. We provide Cathodic Arc coatings for tribological purposes, with multi or monolayer structures. The coating offerings that we have available are diverse, properly fabricated to your particular application and combined with a custom surface preparation, essentially resulting in repeatable and reliable tool performance.
PVD Coating Services
Standard & Industry Specific Coatings
Surface Preparation(s)
Dry Film Lubricants
Many other Pre and Post Treatment Options
Certified Tool & Grinding has recently partnered with Gorilla Mill, in an effort to expand our premium Carbide Cutting Tool catalog. Our Gorilla Mill inventory is now available to our customers, with numerous products currently in-stock. We have the ability to promptly supply your manufacturing company with quality Gorilla Mill products continuously.
Dayton Coating Technologies and Certified Tool & Grinding, both, offer flexible and free pickup and delivery services. Our services will accurately and efficiently complete any project a lot faster than many manufacturers who are, also, in the machine tooling or coating industry. The size or the exact specifications of an individual project does not matter. Whether your project is larger in size or smaller, or extremely precise and complex, we strive to exceed our customers' expectations in quality, accuracy, repeatability and delivery. All of our products are proudly made in the USA, at our facility in Dayton, Ohio.
Whether you are in need of a quote or application support, our experienced engineering team is eager to assist you with your cutting tool application, in order to properly develop your unique solution. Don't hesitate to contact our team if you have any questions or unique applications that you need support with.
You can, also, follow the Dayton Coating | Certified Tool & Grinding LinkedIn account to stay up-to-date with industry news and trends!